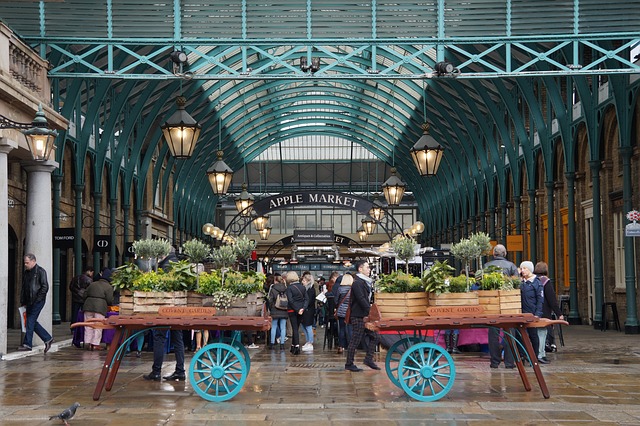 If you're looking for the best street food in London, then read on to find out more. London, known for it's vibrant culture, traditional authenticity and bustling crowds, has a vast selection of diverse and unique markets.
The places mentioned in this post can take your taste buds a journey across the world, from the spices of Asia to the rich fruits of Africa. You're bound to find what you are looking for at one of these popular London markets.
In our opinion, Borough Market is one of the best markets if you're on the look out for a variety of good produce. With its selection of fresh food, artisanal goods and perhaps the occasional sweet treat, this market is ideal for the food lover.
Located in the heart of London, if you're looking for a bit of indulgence, we recommend Borough Market. Don't leave without trying Scotchtail's delicious fried Scotch eggs – an absolute must if you're having a naughty day!
Nearest Station: London Bridge
Open: Monday-Saturday, 10am – 5pm (6pm on Sat)
Torrington Square's Bloomsbury Farmers Market is a must-visit for all. If you catch yourself in London on a Thursday, be sure to check out Well Kneaded's mouthwatering "firebread" or treat yourself to a luxurious Ice Cream at Opera's.
Nearest Station: Russell Square or Goodge Street
Open: Thursday, 9am-2pm
In the heart of Clerkenwell, Leather Lane market is a bustling hub of options for your tastebuds.
If you're feeling exceedingly British this winter, we recommend Pieminister's Chicken of Aragon Pie.
Nearest Station: Chancery Lane
Open: Monday-Friday, 10am-3pm
If you're looking for the next big thing – this is it.
Formed entirely out of shipping-containers, Box Park's pop up shops are in the height of fashion this season. In the centre of Shoreditch, one of the most vibrant areas of London, this market is open far into evening, providing a one-stop-shop for all of your late night cravings.
We especially recommend Voodoo Ray's scrumptious Pizza.
Nearest Station: Shoreditch High Street
Open: Everyday, 11am-11pm (10pm on Sun)
Also in the bustling district of Shoreditch, Brick Lane is known for it's mouthwatering curries and famous bagels. A must visit for anyone staying in this area; Brick Lane's market is a favourite among locals and Londers.
Be sure to check out Beigel Bake, open 24 hours day, and experience the Salt Beef Bagel!
Nearest Station: Shoreditch High Street
Open: Everyday
Dinerama
Dinerama is the new kid on the block in East London. With a vibrant atmosphere and a range of places to eat, it's definitely one to visit this year!
We recommend Smokestak's juicy ribs.
Nearest Station: Shoreditch High Street
Open: Thursday, Friday and Saturday, 5pm-Midnight
This niche market, tucked in the iconic borough of Hackney, is full of bric-a-brac, craft stalls and fresh produce.
We recommend Bao and Morty Bob's grilled cheese!
Nearest Station: London Fields
Open: Wednesday – Saturday, 11am-7pm
In the heart of London's Soho, Berwick Street offers a busy atmosphere with a range of foods to suite your tastebuds, open every day of the week.
Be sure to look out for the award winning 'No Lobster Roll' by Tounge and Cheek, and let us know what you think!
Nearest Station: Piccadilly Circus
Open: Monday-Friday, 11am-3pm
his popular market, notorious for its vast selection of bric-a-brac, is the home to an assortment of appetising foods. Whether you're looking for the perfect golden churros, or perhaps some Jerk chicken, this market will fill a hole that only food can fill!
Nearest Station: Ladbroke Grove
Open: Monday – Wednesday, 9am-6pm; Thursday, until 1pm; Friday and Saturday until 7pm
Spitalfields Market and The Kerb at Spitalfields
With a vast range of options, from Seafood Paella to the best burgers in town, Spitalfields market has a selection of food that will comfort any craving.
Based in London's financial district, we strongly recommend heading over to the Kerb at Spitalfields.
Nearest Station: Liverpool Street
Opens: Monday – Sunday, 10am-5pm
If you're looking for tasty food with a view, look no further! Situated under the famous Gherkin building, this popular lunchtime market serves some of our favorites.
We suggest you try out The Notorious P.I.G at Anna Mae's Smokehouse!
Nearest Station: Aldgate
Opens: Thursday, 11:30am-2pm
If you're looking for fresh produce and local food, Venn Street Market is a must.
Warm yourself this winter with a juicy British hog roast at Moen's & Sons or grab a freshly baked baguette from Olivier's.
Nearest Station: Clapham Common
Opens: Saturday, 10am-4pm
Whitecross Market
Full of history and wholesome produce, Whitecross Market is has diverse range of culture to suit every taste. This central London hotspot is idea for vegans and vegetarians, featuring the tastiest halloumi, fresh leafy greens and noodles galore!
If you're looking for something more meaty, we recommend visiting Turkish Gozleme for a meal that will leave you full to the brim!
Nearest Station: Old Street
Opens: Monday-Friday, 10am-5pm
So there you have it – our top picks for London's tastiest food! We hope your next visit is filled to the brim with fine food and fresh produce. If you are travelling from abroad to London, be sure to stay connected with Googe Maps so as not get lost with Tep's travel wifi.